Bluewater Cruising Yachts have been in business since 1989. Since then we have built over 60 vessels of various sizes, all of which are still in operation today. The Company has established itself foremost as a builder of safe and strong go-anywhere liveaboard cruising yachts. The Bluewater team of craftsmen is dedicated to providing a top quality product for the serious cruising sailor.
The Bluewater Cruising Yachts company is located in Cardiff, adjacent to Lake Macquarie, Australia's largest salt water lake. We have been in our purpose built 10,000 sq. ft. (900 sq m) factory at Cardiff since 1996. Our yachts can be launched 10 minutes away in Lake Macquarie. Two hours drive from Sydney, and with abundant accommodation in the area, this is just the place to build your new yacht.
Our expertise and experience has seen our team work on a range of projects from cruising monohulls, catamarans, power catamarans, high speed tenders for luxury yachts, and refurbishments of second hand yachts, plus a number of diverse non boating projects.
Our staff have the expertise to cover the skills of pattern and mould making, timber cabinet making and electrical in house. This diversity of talent and ability to complete a range of projects is a means of securing the financial stability of the Bluewater business and providing peace of mind to all our clients that we are around for the long term.
Vision is critical to Bluewater's success. The people and companies involved in the development of a Bluewater Cruising Yacht have been selected with the upmost quality in mind ensuring that the delivery of your Yacht is world class. Since the initial vision created by renowned Yacht designer Joe Adams, the Bluewater team have meticulously produced quality results in their Australian factory according to solid production standards.
Our objective is to build boutique yachts customised to your specifications that ensure safe, comfortable and enjoyable cruising voyages for you and your family no matter where in the world you want to go.
Our aim is to provide you with an investment endowing you with freedom, exploration and adventure. With a Bluewater Cruising Yacht, you are assured meticulous workmanship, absolute safety, and the pinnacle of quality. You can sail with the peace of mind that you are in the safest and most comfortable ocean cruising yacht available today.

It is an opportunity to journey beyond the horizons of your own expectations in a vessel customised with you in mind, bringing your vision to life.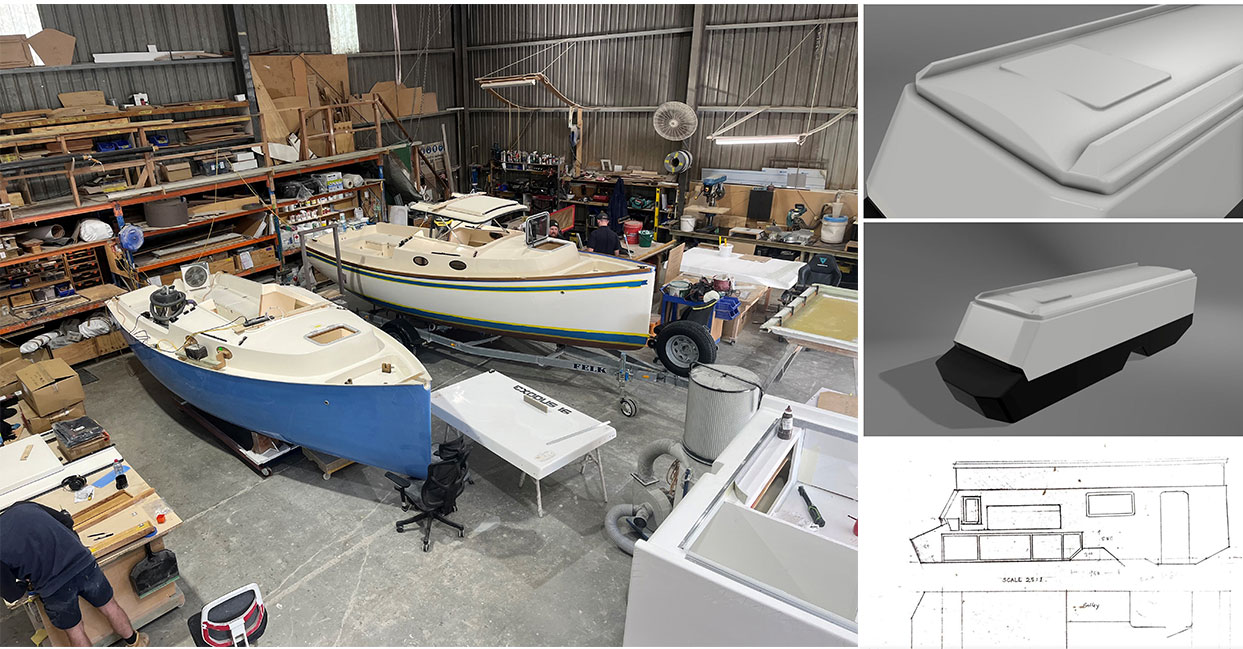 Bluewater Objectives 2023/2024
Bluewater Cruising Yachts is embarking on a period of exciting growth. We have been in business for over 30 years establishing our credentials building high end semi-custom ocean-going cruising yachts / custom projects and now building classic gaff rigged trailer sailers and specialised Exodus offroad hybrid campers.
We design, prototype, test, manufacture, market and sell direct to the public. We utilise boat and yacht designers as well our own design expertise to produce award winning products.
We are starting to export our Cygnet 20 product to the US and will be exhibiting at this year's 2023 Annapolis Boat Show. We think this design can be exported to the world.
We are also currently developing our 4th generation Exodus offroad camper, and will have this ready to exhibit 2024. Not only these 2 products we have a third 30+, diesel powered picnic boat on the drawing board which will commence 2024.
So if you would like to be part of our highly skilled and awarded team and would like to possess skills in pattern making, laminating, construction, cabinetry, cabinet making, boat building, finishing, mast and rigging, as well using the boats and products we build then submit your interest so that we can organise a week of work experience to gauge your interest and suitability to this wonderful marine craft.
We look forward to welcoming you onboard.
David Bradburn
Managing Director
---
| | | | |
| --- | --- | --- | --- |
| | | | |
| The Bluewater Cygnet 20 | The Bluewater 420RS | The Bluewater 420CC | |