MEET THE NEW OWNERS OF "FOOTLOOSE II"
Kerry and I have been sailing around South Australian waters for over 30 years. We had always planned to cruise further afield when the time was right. Kerry said if we are going to do it we will need to purchase a more suitable yacht. We put our 34ft steel yacht on the market and before long it was sold.
As we no longer had a yacht our friends invited us to join them on their Tayana 42ft centre cockpit for a four day cruise to Kangaroo Island. We were impressed with the ease that she handled the 35kt winds and sloppy seas that were not forecast. We then knew that we needed a yacht of similar size and displacement with a cruising fin and skeg hung rudder but with a more modern layout and no teak decks.
After searching the web for 2 years my son recommended that I look at a Bluewater 420 Centre Cockpit that was back on the market. I contacted David Bradburn and we spoke for a long time about the construction methods used by Bluewater Cruising Yachts. Having the ability to speak to David with his knowledge of the yacht's history convinced me that an inspection was warranted.
My son and I were most impressed by the construction and the ability to access everything that may need to be serviced or replaced. The staunchions and the lifelines are rock solid and all the stainless work is still highly polished after 20 years. Kerry was most impressed by the huge aft cabin with a queen sized bed and generous storage. The well laid out galley with plenty of bench space and storage. The head being located amidships at the bottom of the companionway was another desirable feature.
We have now owned Footloose II for six months and so far she has exceeded our expectations in her ease of handling and performance in both light and moderate winds. We are confident that she will take us whenever we decide to venture in both safety and comfort.
Bob and Kerry Graham, Footloose II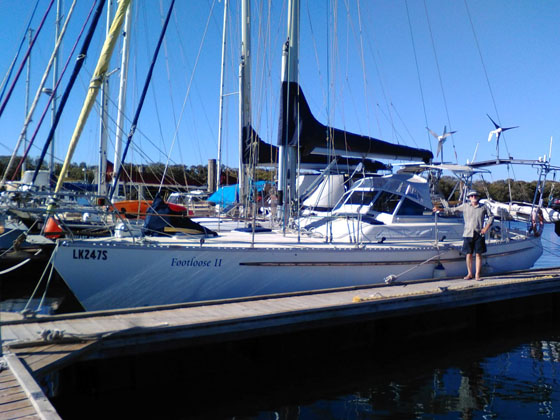 RPAYC SAIL EXPO, PITTWATER 2019
Bluewater Cruising Yachts will be exhibiting their Cygnet 20 at the RPAYC Sail Expo, Pittwater next weekend.
Date: Saturday, 27th & Sunday, 28th April 2019.
Time: 10.00 am to 4.00 pm
Free Entry.
Come down and see Will Hardcastle, Designer and James Christie, Bluewater Head Shipwright who will be manning the stand, and they will be happy to show you onboard.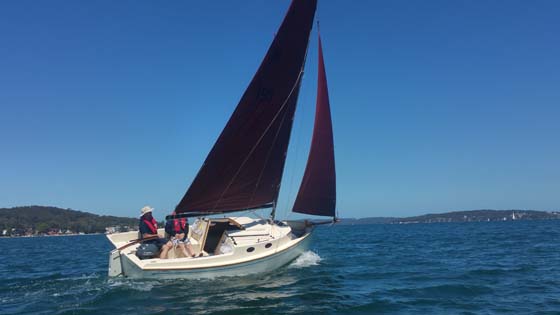 FOR SALE: BLUEWATER 400 "Antares" $195K
The beautiful Bluewater 400 "Antares" has been reduced in price to $195K. This centre cockpit version is still in very good condition, and has been well maintained. Design features include integral keel, skeg hung rudder, generous fuel and water capacities, huge queen sized aft cabin, easy to work in galley, excellent access to engine, large electric toilet, easily sailed by husband and wife team, and enclosed cockpit to name a few.
If you are in the market for this style of yacht at this stage of your life what are you waiting for? Look no further and come and inspect "Antares" at Marmong Point Mariina. David would be very happy to show you onboard, and take you for a sail on beautiful Lake Macquarie. She is a good looking, well built, second hand Bluewater yacht that you will be proud to own, sail and cruise in safety and comfort. Click here to download the specification now.