BLUEWATER CRUISING YACHTS - AUGUST 2019
BIG BOYS TOYS EXPO - NEWCASTLE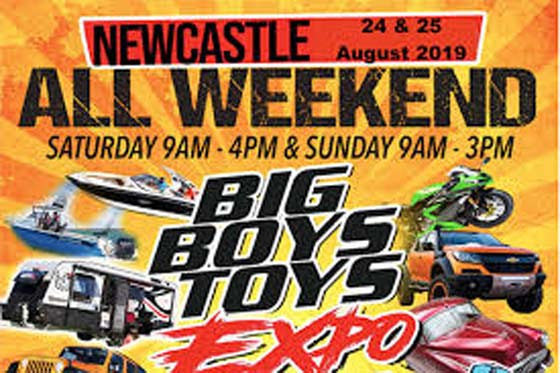 McDonald Jones Stadium, 294 Turton Rd, Broadmeadow NSW 2292
Saturday, 24th August 2019 - From 9.00 am to 4.00 pm
Sunday, 25th August 2019 - From 9.00 am to 3.00 pm
Bluewater Cruising Yachts Pty Ltd will be exhibiting their Cygnet 20 at the Big Boys Toys Expo - the first time this event has been held in Newcastle.


The Cygnet 20 'For the love of sailing'. EXPLORE, ADVENTURE, RAID. For a closer look at this beautiful, gaff rigged trailer sailer come down and see us at the Big Boys Toys Expo Newcastle, Stand 86. www.bwcy.com.au or call Corinne on 0425 806 764.
The Expo also features Big Boats, Caravans, Campers, 4 x 4, Camping and Fishing as well as DIY and Tools.

CYGNET 20 - 10TH ORDER TAKEN AT THE SYDNEY BOATSHOW
We welcome Steve from Sydney to the Bluewater family who placed his deposit for a Cygnet 20 at the recent Sydney Boatshow making him #10. We look forward to getting to know Steve and his family better once his boat is completed. As he recently retired he will have the hard task of biding the time away until his delivery around May 2020.

CYGNET 20 "HOPEWELL" QCYC VINTAGE YACHT REGATTA AUGUST 2019
One year ago I was able to sail as crew in the annual Vintage Yacht Regatta which is hosted annually by the Queensland Cruising Yacht Club at Shorncliffe on Moreton Bay, Brisbane. What a great winter weekend it was!
This year on 3-4 August the 44th annual event was staged and 28 yachts participated in 3 divisions, sailing 4 races over long and short courses. The traditional design of the Cygnet 20 allows it to participate in this event.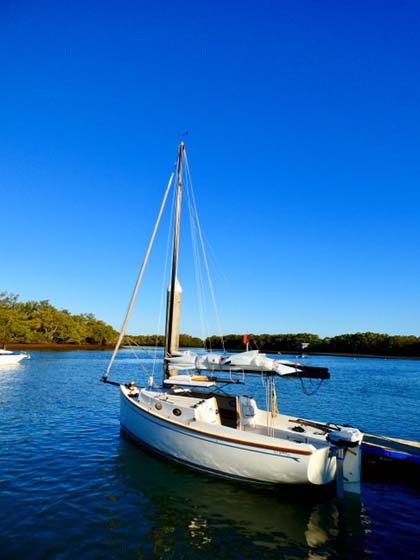 To attend this wonderful regatta weekend, sailors come from all over Moreton Bay and in our case a 16 nautical mile passage from Manly to Shorncliffe was required.

My crew for the weekend was a long time friend, David who lives close to QCYC and sails with Sailability where disabled people are given the opportunity to experience the joy of sailing small boats on the water.

We conducted a practice sail a couple of days before the event for David to become familiar with the Cygnet 20 and for me to become more familiar with the narrow Cabbage Tree Creek channel which connects the QCYC to Bramble Bay.

David had never sailed in a race before and I hadn't raced as a skipper for 15 years!

Two races were sailed each day over the weekend and typically, for this time of the year, there was very little wind for the first race start time of 10:45. After a floating lunch, the afternoon race saw the wind increase up to 10 knots but the conditions could be described best as 'light' overall by Moreton Bay standards.
My Cygnet 20 ( hull #3 'Hopewell' ) performed surprisingly well in the Small Keelboat division. We sailed short courses with the Open Boat division which included the lovely Amity Classic, while the Vintage Yacht division (much larger yachts from 30 to 50 feet) sailed the long course.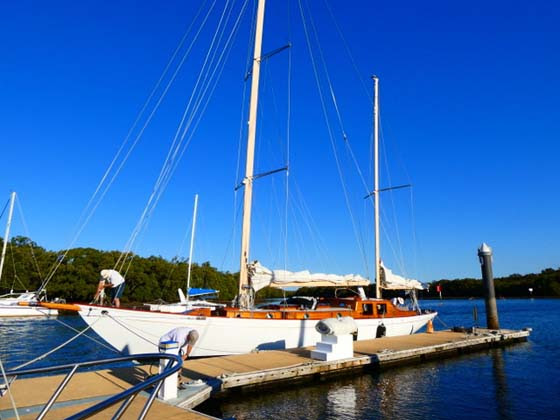 Our goal was to go out and:
1. Not hit another boat.
2. Not hit a mark.
3. Not hit a sand bank.

4. Not sail the wrong course, and
5. Enjoy sailing in a wonderful regatta on a beautiful Moreton Bay winter's day.
We achieved all of the above and my jaw dropped at the presentation when it was announced that our Cygnet 20 had won both Line Honours and Overall Winner of the Small Keelboat Division. We were stunned!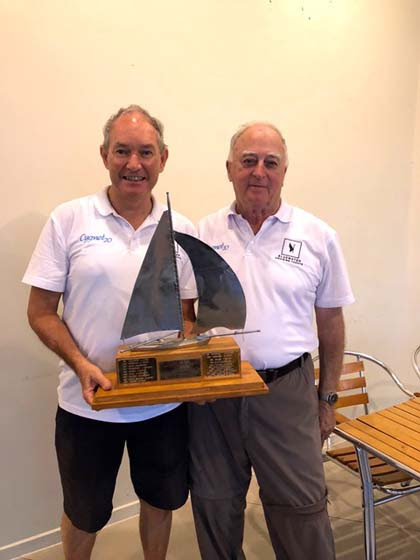 I thought we were doing reasonably well, despite my poor starts, but I knew we were 'flying' over the course and were outpacing similar and larger sized yachts on the 3 short courses and the 2 hour passage race to Woody Point.

We just sailed the Cygnet 20 like a big Laser and it seemed to pay off.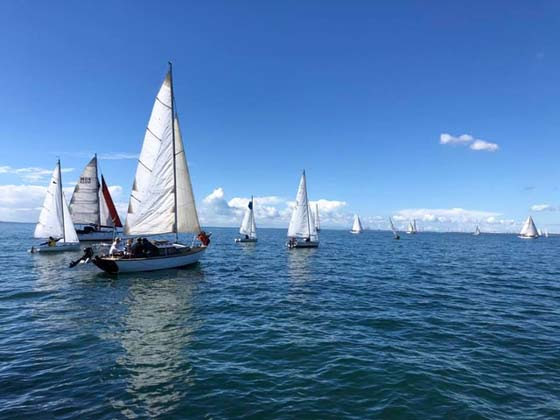 Hopewell is now back at East Coast Marina, Manly after the return passage which saw the electric outboard motor used for 4 hours at about 2.5 knots followed by 90 minutes of beautiful sailing after the wind finally filled in.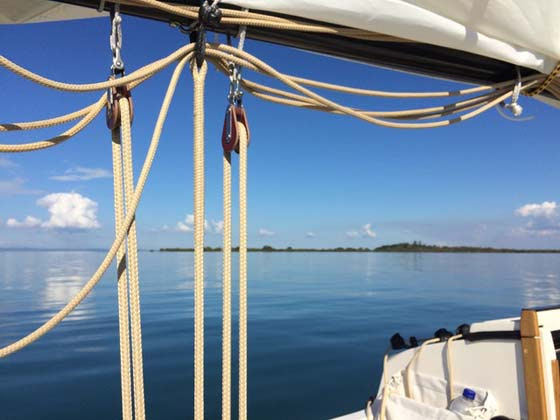 Ironically, if the 44th Vintage Yacht Regatta had been held a week later it would have been cancelled due to two days of strong wind warnings.

David and I can't wait to return to QCYC next year to 'defend our title'! All we did was sail the Cygnet 20 around Moreton Bay and have lots of fun. Credit must go to designer Will Hardcastle and the Bluewater Cruising Yacht team of David, Corinne, James, Kevin and Joe for producing this lovely boat.

Thanks to all! You have allowed us to have the most wonderful weekend of sailing.
Michael Shannon, Cygnet 20 "Hopewell".