2013 Sydney Boatshow
Earlier this year (March 2013) Bluewater exhibited at the Pittwater Sail Expo where our Bluewater 420 Raised Saloon was well received and attracted alot of compliments. We hope to be there again in 2014.
Bluewater will unfortunately not be exhibiting at the 2013 Sydney Boatshow due to not having a recently built Bluewater available (all our owners are off extensively cruising!). Bluewater is sorry not to meet you again to allow you to compare the quality build and features that Bluewater's have become renowned for. If you would like a private viewing or test sail please contact David on 0412 656 271 or 02 4956 8522 or david@bluewatercruisingyachts.com.
We are currently building a Bluewater 420 Raised Saloon 3 cabin layout version and excited to announce this beautiful vessel will be launched mid next year and exhibited at the 2014 Sydney Boatshow.
"Southern Belle" Living The Dream
Some form of freedom is the dream shared by just about everyone. Freedom from work. Freedom from stress. Freedom from the cold. But it's often just that ... a dream.
Dreams do come true though with planning and preparation ... as ours did this year. Our dream of sailing away and living on our beautiful Bluewater 420 "Southern Belle" is the reality we're living right now.
For more winters than we care to remember it was our plan (dream) to spend the cold bleak Sydney winter months sailing in the warmer waters of northern Queensland and the tropical sea. This year we made it happen and with 6 months of planning we dropped our mooring on the 4th of May and started our sail north. We are taking our time to travel up the coast, participate in rendezvous scheduled through our yacht club's Coral Coast Cruise and then join this year's Louisiades Rally to PNG.
The journey so far has been spectacular! Full of the usual ups and downs associated with sailing but mostly magical moments that will live in memory and tall tales forever. The highlights to date are...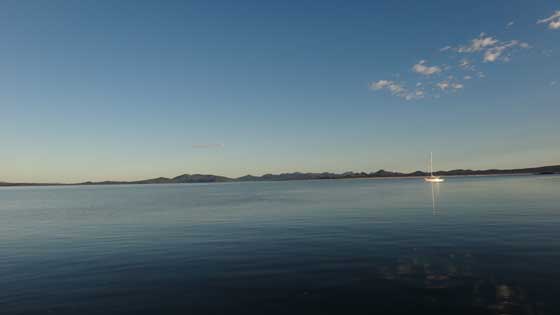 The beautiful and lonely Port Clinton - The sheer pristine beauty and size of the "port" is impressive. As you follow the guide books in and watch the depth sounder around the headland a massive vista begins to reveal itself. As far as can be seen is an unspoilt all-weather haven for yachts. We were only there one night and, with the exception of one yacht that arrived at dusk, we were alone with the sunset and the stars.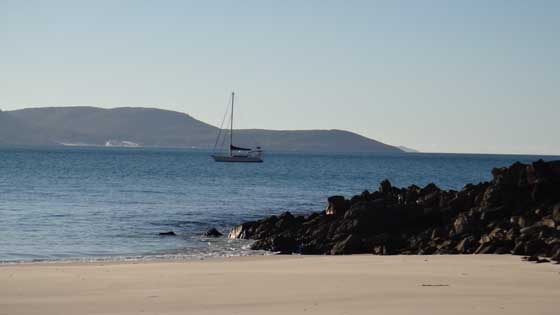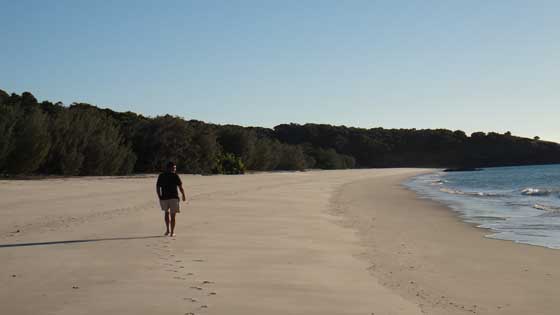 The Percy Isles - These 3 islands ... South Percy, Middle Percy and Northeast Island ... are popular with cruising yachts headed to the Whitsundays. It was easy to pretend to be Robinson Crusoe on South Percy with no other boats around and the expansive beach all to ourselves. The wind came up on the 2nd night and we took refuge in the lee of Northeast Island with about 12 other boats. Even with the windy conditions the scenery was fantastic.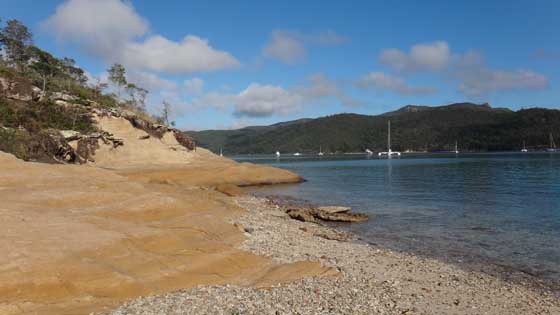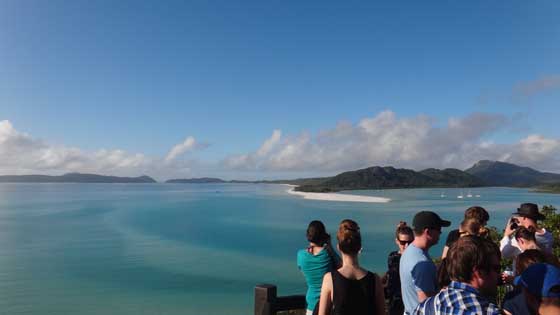 The Whitsunday Islands - specifically Whitehaven Beach and Tongue Bay - One of the many joys of the cruising life is the camaraderie of other yachties. We've certainly enjoyed sharing our journey with several yachts from our yacht club as well as meeting lots of other cruisers. Approaching the spectacular Whitehaven Beach we noticed a friend already anchored there via our AIS and joined them at anchor. One of the world's top 10 beaches, Whitehaven Beach certainly lived up to expectation! There was hardly any wind when we arrived so the day was spent walking along the beach, swimming and having drinks at sunset on the beach. Heaven!
The next morning we moved to Tongue Bay just a few bays up and still a part of the Whitsunday Island and took a walk to the top of the hill. What a magnificent sight! At the top you can look down on the expanse of Whitehaven Beach and really get an understanding of its size and beauty. While anchored in Tongue Bay we saw turtles and a couple of dugongs swimming not far off our stern.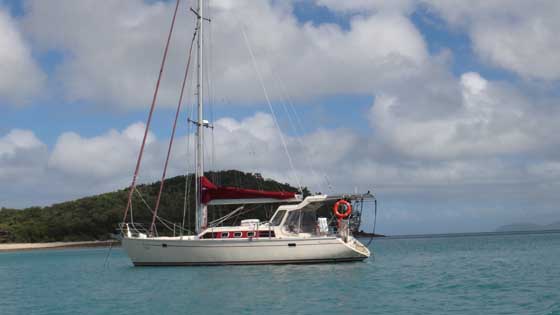 Currently we're in Abel Point Marina at Airlie Beach gathering supplies for the next leg of the trip. During the 3 months we've been sailing we've experienced great weather and "not so" great weather. We've had days of 30 knot winds and driving rain as well as spectacular sunny days on tropical turquoise seas. During one of the "not so" great nights, as we sat comfortably in the saloon having dinner, I asked my skipper husband to list his top 5 things he appreciated about "Southern Belle". His list was:
The ease of handling. The skipper was alone or with other crew during the first 2 months of the cruise due to me breaking my foot! He managed a lot of the early journey solo.
Fuel and water capacity. We are able to stay out from marinas for long periods without having to re-fuel or take on more water. PLUS when it rains we can collect water for our tanks meaning we're independent from watermakers.
Storage capacity... there's a LOT of it!
Our hard dodger gives us all weather protection ... we haven't had to put on our wet weather gear yet in 3 months of sailing!
Our gear - AIS, chartplotter, boom brake and Manson Supreme anchor - all are the day to day things we just couldn't imagine being without.
We won't be back at our mooring in Pittwater in Sydney until around the 1st of December this year. To keep in touch with all the adventures of the beautiful "Southern Belle" you can read the blog at http://gailsshinealight.blogspot.com.au.