Sydney Boatshow 2015
Bluewater Cruising Yachts will be exhibiting their latest Bluewater 420 Raised Saloon at the Sydney Boatshow which opens this Thursday, 30 July to Monday, 3 August 2015 at Cockle Bay, Darling Harbour. The marina opens from 10.00 am to 8.00 pm.
"China Girl" was recently launched in Lake Macquarie on 4 July. She has a 3 cabin layout, rock maple timber fitout, hard dodger, fitted with the latest Finscan touchscreen technology, B & G Zeus 2 electronics, washing machine, workshop, increased fuel tankage as well flexible aft cabin accommodation.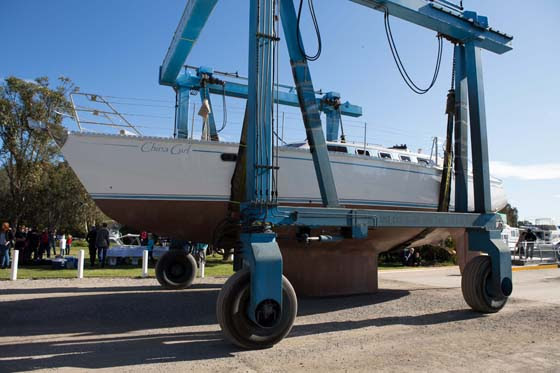 We hope you can make it down to the Sydney Boatshow so David and the Bluewater team can show you through this beautiful Australian built yacht. A genuine cruising yacht capable of extended cruising in comfort and safety. GUARANTEED CRUISING CONFIDENCE.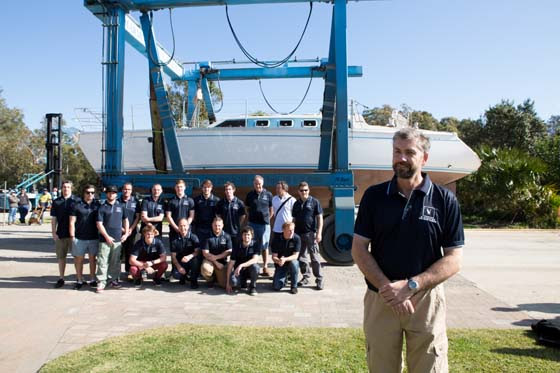 "Southern Belle's" Trip To Tasmania
"Let's go to Tasmania next!" Those excited words were said over a few drinks while on the Coral Coast Rendezvous Cruise with our yacht club (the RPAYC) back in July 2013. All the skippers had been talking about the next destination for the Cruising Division and Tasmania kept coming up. I was guilty, along with a lot of the wives listening that evening, of rolling my eyes thinking it probably wouldn't happen. "Crossing Bass Strait? I don't think so!" Well, this past summer it did happen. Eight boats from our yacht club - including 2 Bluewater 420s - spent much of the summer sailing the spectacular and pristine waters of Tasmania.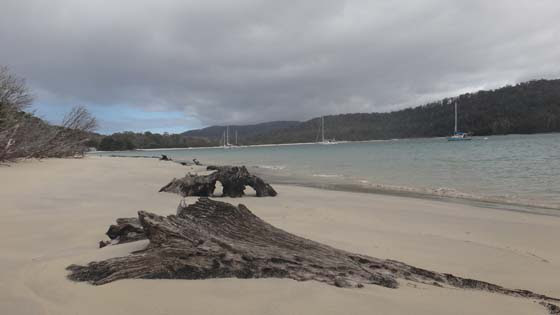 We arrived in Hobart on 20 December after an excellent and uneventful Bass Strait crossing. In fact the only rough weather we encountered over our 3 month stay happened just off Eddystone Point on the way down the East Coast. We were hit with 5 or so hours of strong wind with gusts upwards of 35-40+ knots. Fortunately, and in spite of Tasmanian water's rough reputation that was it for the bad weather. We managed to sail in lovely calm weather for the rest of our stay. It pays to watch the weather, especially down in the Southern Ocean.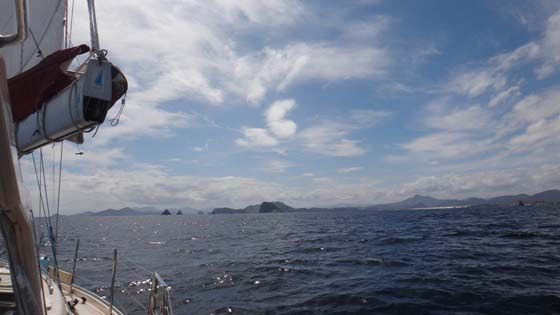 There is so much to enjoy while cruising Tassie. The sailing must rate with the best in the world. Beauty is everywhere, from soaring cliffs to little isolated islands populated with masses of fur seals. Each anchorage has something special. There's food and history and art just a few hours away by boat or car from a base in Hobart.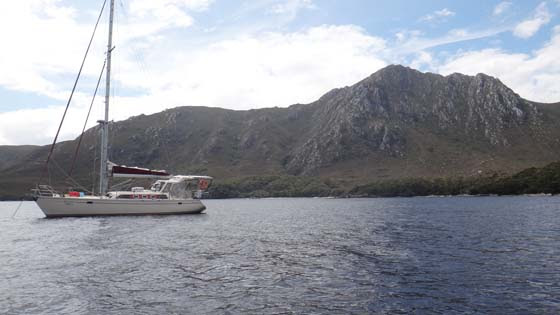 The most spectacular place we sailed was the remote and pristine Port Davey. "Southern Belle" made the 10 hour cruise there in company with "My Way 2". Words cannot describe how special Port Davey and Bathurst Harbour are, and how magnificent the Southwest Tasmanian Wilderness is for the traveller that manages to make it there. As we sailed out of Recherche Bay, at the very bottom of the state, and around into the southern ocean we felt like we were sailing into another world. The mountains far in the distance looked like a mystical Middle Earth. We spent just over a week exploring the area.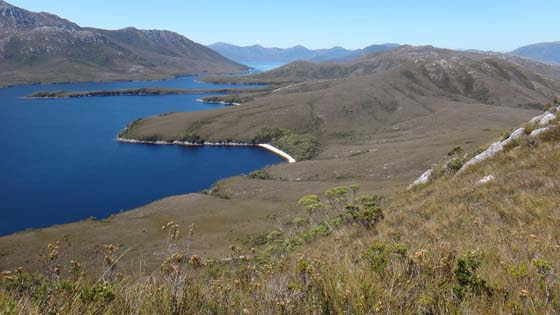 Everything about Port Davey is challenging but ultimately rewarding. It is the most remote place we had ever been. Communication, including weather reports, was best done over our HF radio although our friends on "My Way 2" had a sat phone that sometimes worked. We spent our days as explorers. We climbed barely discernible paths which, in reality, were nothing more than wombat paths through the button grass. At the crest of the hills each view was a panorama of breathtaking pristine wilderness. One day we took our dinghies down a lonely river looking for small preserved stands of huon pine and then a few days later we went 5 miles up the Davey River, again in dinghies, looking for the Davey Gorge. Another day we travelled to the little settlement of Melaleuca - the original homestead of the bushman Deny King. Our time in the wilderness of Port Davey was something I know we will never ever forget.
Tasmania can be anything. It can be a fantastic food destination, a great road trip, a mecca for art; it can be an adventure playground or a combination of everything. We loved our time in Tassie and we're so glad we had the opportunity to sail there.
Gail & George Grant "Southern Belle"