CYGNET 20 Race Results
We have been testing and racing our Cygnet 20 since late 2017 / early 2018.
The main modification we have made from the original design is moving the motor from the well to the transom. This albeit does not look possibly as pretty, however, the gains are numerous, namely:
- increased motoring speed
- less drag when sailing
- no noise when motor raised while sailing
- increased cockpit seating
- extra locker space used for storage or icebox
We have improved our Race Results with a couple of 1st's and 3rd's while competing against larger boats.
In Race 6 on 16.5.18 at LMYC, Belmont the Cygnet 20 had its best race yet, and was placed in 1st position line honours, and 1st on handicap. She had a less than ideal start which saw her crossing the start line a few seconds early, and required a penalty turn but she still managed to lead all the way, and cross the finish line first claiming victory which was a satisfying win for the crew. Conditions were an easing 12-15 knot SW breeze.
After the Race the Bluewater boys enjoyed a cold beer, and the winning cheque.
Click here to see more information on the Cygnet 20 and Race Results on the right hand menu.
We are still enjoying racing the Cygnet 20 at LMYC Wednesday twilight races with the Bluewater staff, and also continue our involvement with the Newcastle Hunter Trailer Yacht Association (NHTYA) here on Lake Macquarie who are a great group of active, passionate, like minded, trailer sailer owners who enjoy racing, cruising and activiites on and off the water. For more information on NHTYA click here.
SANCTUARY COVE, MELBOURNE & SYDNEY BOATSHOWS
Bluewater Cruising Yachts is doing the rounds of Boatshows. In May last month we towed the Cygnet 20 from Lake Macquarie up to Sanctuary Cove which was an 8 hour trip north. With very good roads, mostly double lanes it was easy trip up the coast with plenty of rest stops. The Cygnet 20 only weighs 800kg so quite light and economical to tow. She was well received at Sanctuary Cove, and being one of the only sail boats in the Show really stood out amongst all the power boats. So we know she is quite a special and unique trailer sailer to own.
We will also be exhibiting our Cygnet 20 for the first time at the Melbourne Boatshow.
Date: Thursday, 28 June - Sunday, 1 July 2018
Time: 10.00 am to 8.00 pm
Venue: Melbourne Convention & Exhibition Centre
Come down and see David and he will be delighted to show you our beautiful gaff rigged trailer sailer.
We will also be exhibiting the Cygnet 20 at The Sydney Boatshow.
Date: Thursday, 2 - Monday, 6 August 2018
Time: Halls are open 10.00 am to 7.00 pm
Venue: Sydney International Convention Centre
FOR SALE - BLUEWATER 420 "Sabbatical II"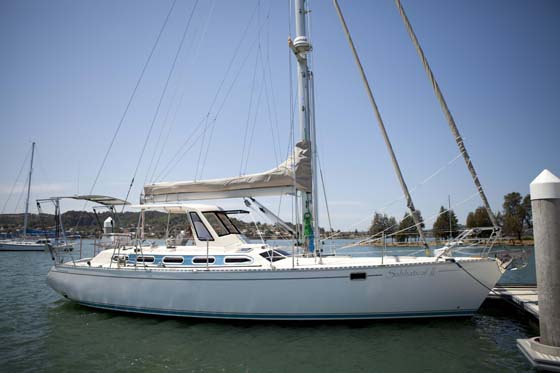 Bluewater 420 "Sabbatical II" is in excellent condition with an impressive inventory, and is ready to sail anywhere. She features a two cabin layout with queensize aft island berth, large nav/office, 1000lt water, 580lt diesel, 4.5 tonne integral lead ballast, 135 degree+ AVS, constant upgrades. $525,000 NEGOTIABLE. For full inventory click here.