Bluewater "Easter" Regatta
Bluewater recently over the Easter break had a get together of Bluewater 400/420 owners on the shores of Lake Macquarie. We had a fleet of some seven Bluewaters including "China Girl", "Celay", "Southern Belle", "Polaris II", "KRACKT", "Cyrene II" and "Antares", and enjoyed discovering new sights and anchorages on our beautiful Lake even though some had sailed these waters for going on 20 years!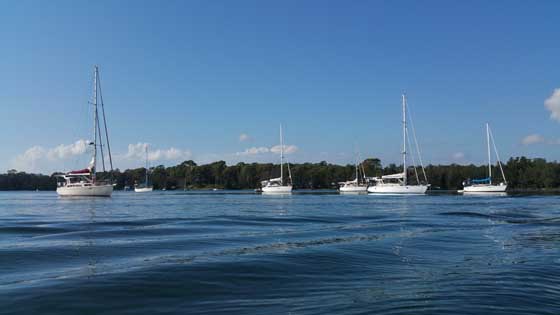 The long weekend began with anchoring off Shingle Splitters Bay and morning tea onshore catching up with everyones experiences and plans for future cruising, dinghy adventures, leisurely sails, drinks on board, dinners and culminated with an exciting sail amongst those that wanted to test themselves, and their craft against other similar like minded people.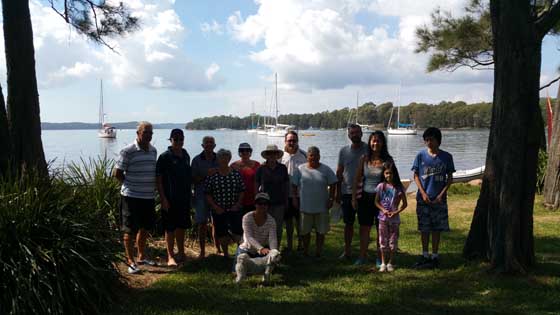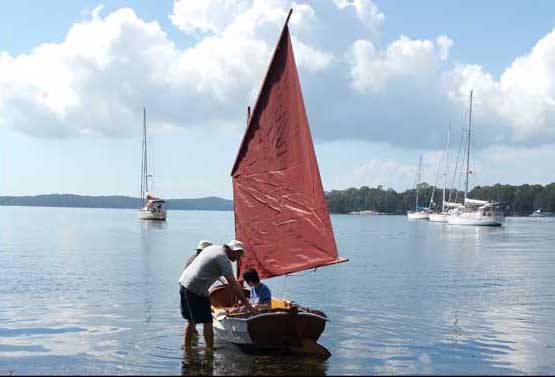 What was pleasing is that all the boats remained competitive even though some took it more seriously than others. For example, one boat was towing their dinghy while others had full tanks and gear, and used their Code Zero to help in the 10-15 knot conditions. The eventual winners were Peter & Sue "Celay" on two runs had stiff competition from Andrew & Margaret "Polaris II", and David & Corinne "China Girl".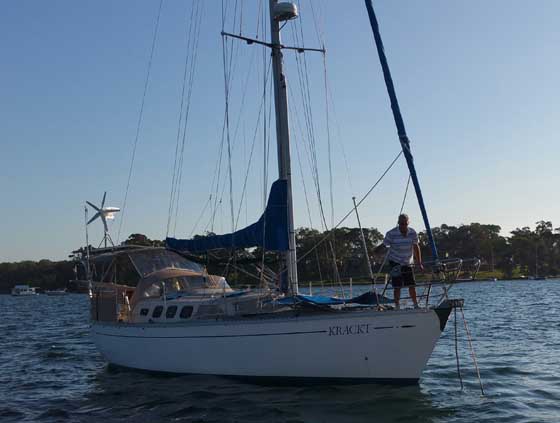 "KRACKT" was getting prepared to leave in the next few weeks for their annual trip to Noumea (their 15th one, we've lost count!).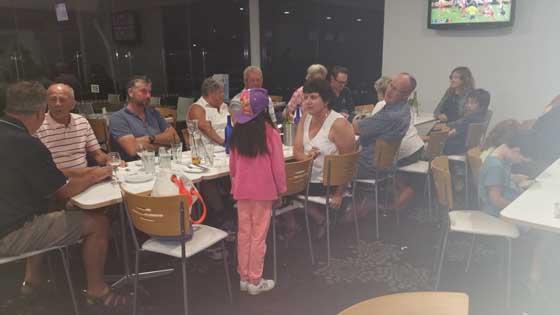 Dinner at Gwandalan Bowling Club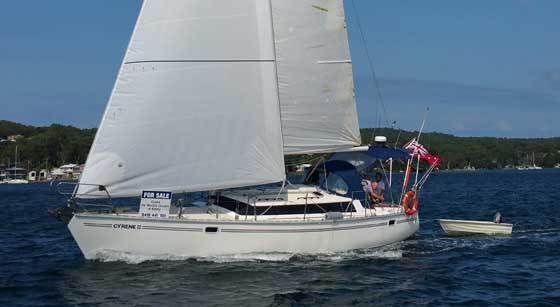 "Cyrene II" heading north to Belmont Bay during the race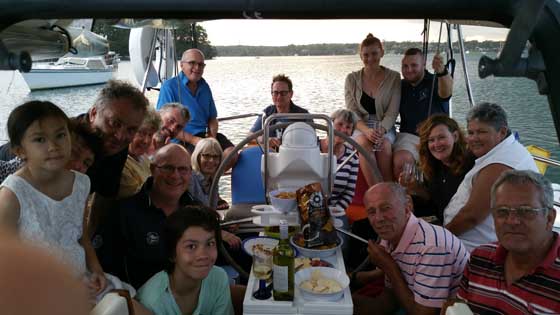 Drinks and nibbles onboard "China Girl"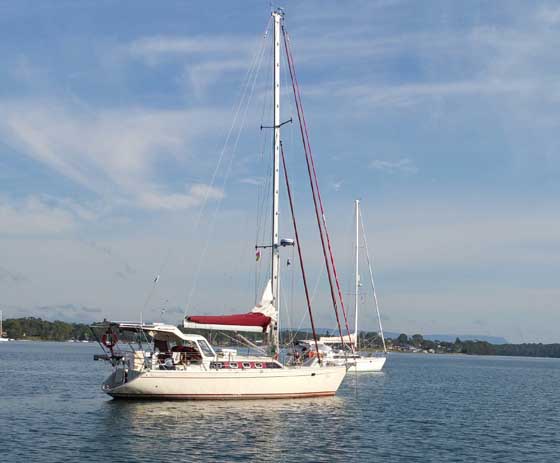 "Celay" and "Southern Belle" at anchor in Nords Wharf.
All in all everyone had a fun time and look forward to our next Easter Get Together which we have decided to make an annual event.
Meet The New Owners of Bluewater 400 "Polaris II" And Why They Chose A Bluewater
My wife Margaret and I have been dreaming of our ultimate cruising boat for many years (or I have at any rate!). We have both sailed dinghies since we were kids, and more recently raced small keelboats on Sydney Harbour.
We were looking for a cruising boat that sailed well, was easily managed by one or two people and could handle long distances in safety and comfort.
The Bluewater 400 fitted the brief perfectly as an outstanding example of a high quality, Australian designed and built long distance ocean going cruising boat. The Joe Adams designed hull was integral keel and skeg hung rudder is fast and very seaworthy, and combined with the build quality from the Bluewater factory has created a good looking robust addition to our family.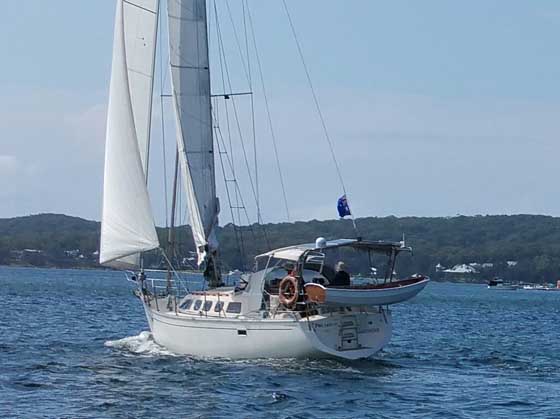 It was love at first sight when we first inspected Michael and Merle North's beautiful "Polaris II" mid 2015. After 17 years and over 30,000 sea miles including a circumnavigation, "Polaris II" was still in immaculate condition. Michael still had the hull cores from the original build (from installation of hull fittings etc) which showed the carefully laid layers of fiberglass, and the generous reassuring thickness (some over 1" thick).
Margaret and I are only the second owner of "Polaris II" and we feel very privileged to own such a beautiful boat. We are planning to sail to Hamilton Island later this year, and then to Melbourne and Tasmania later in the year in preparation for a circumnavigation of Australia and, hopefully, another go around (the world) over the next few years.
David has been very helpful in introducing us to the wonderful Bluewater family of cruising boats, and we recently enjoyed an Easter on Lake Macquarie with six other Bluewater yachts who made us feel very welcome.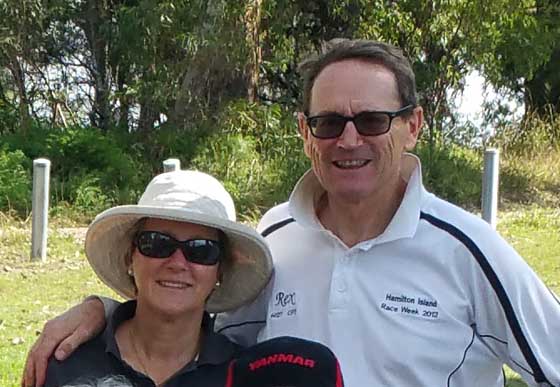 Andrew Robertson & Margaret Campbell
For Sale: Bluewater 420 Centre Cockpit "Footloose II"
Footloose II, a beautiful and one of the best set up Bluewater 420's is now available at $295K. Currently berthed in Mooloolabla she is ready to go cruising the East Coast or the world for that matter. She recently has had her standing rigging updated and presents in excellent condition.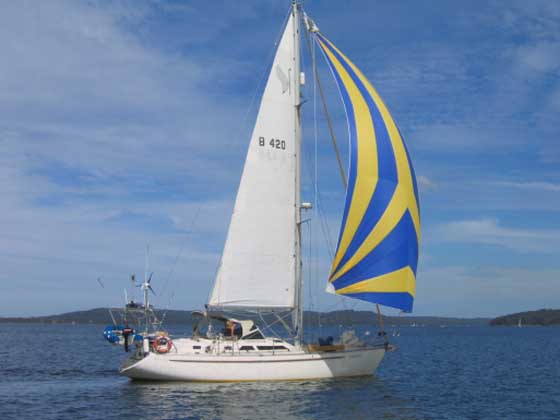 So if you think an integral keel, skeg hung rudder, solid GRP construction, not to mention generous tankage and storage, seaworthy/proven performance, and a comfortable home away from home is important then now is the time to take action. Call David to make arrangements for an inspection on 0412 656 271.
Click here for full specification.
"Charlie's Dream" - Tasman Crossing 2016
Having completed our RYA Yachtmaster Ocean course, my sailing buddy Graeme and I decided that a trip to New Zealand and return would be a great way to put our sextant skills and celestial navigation knowledge to practical use. With 3 other crew we departed Brisbane on 17 January.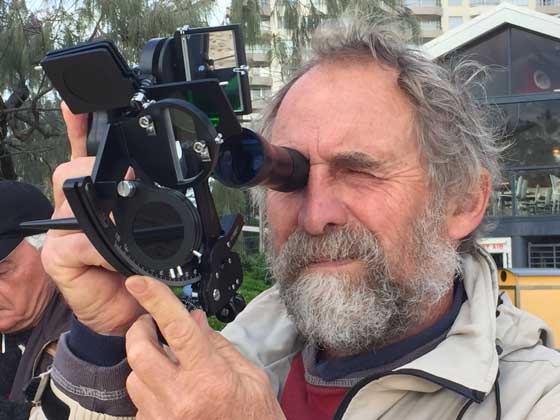 We caught the East Australian Current which gave us up to another 3.5 knots of speed and followed it to about 100nm south of Lord Howe Island before turning east with the current. This allowed us to make progress without having the dominant south easterly winds directly on the nose. We nevertheless often had to motor sail but having 560 litres of diesel in our 4 fuel tanks allowed this luxury. The passage was easy with a top wind of only 25 knots.
Highlights included catching an albacore tuna and taking the toilet apart to clear a macerator malfunction due to salami skin. A ruptured autopilot hydraulic line the day before arriving was repaired using Rescue Tape, an amalgamating tape that withstands high pressure, together with extra hose clipped around the repair.
We arrived at Opua in the Bay of Islands after a passage time of 9 days 17 hours. Quarantine clearance required us to have had a recent haul-out and clean hull as there is a bio-security risk for the Mediterranean fan worm.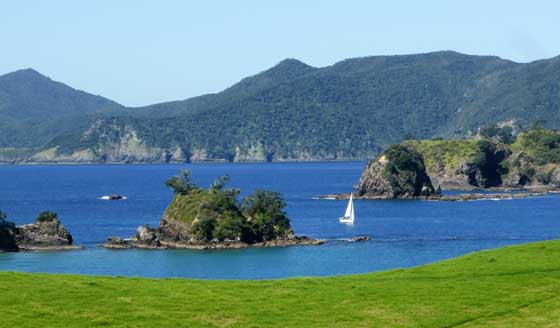 The next month was spent cruising in the Bay of Islands region with other couples that joined us. Urupukapuka Island provided great anchorages, scenic walking tracks and a superb restaurant at Otehei Bay, the site that the big game fisherman and author Zane Gray used to visit.
Another great restaurant was the secluded Kingfisher Lodge in Whangaroa Harbour. This restaurant can only be reached by boat or helicopter. Catching snapper, collecting oysters, snorkelling the Poor Knights Islands and watching gannets dive for fish were other pleasant activities.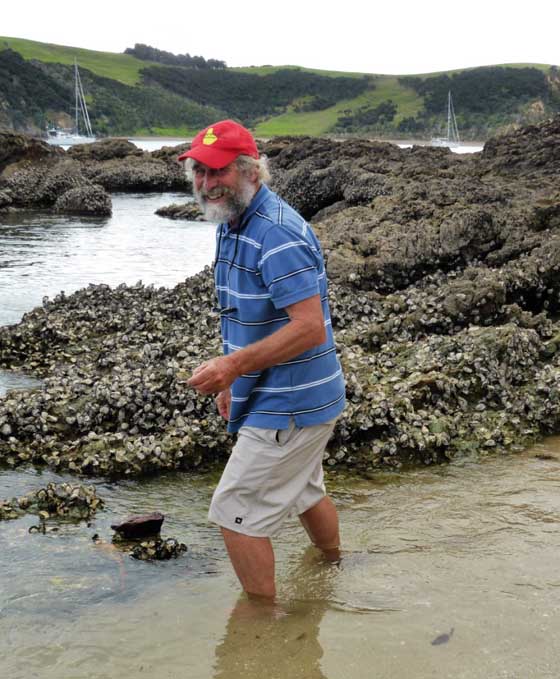 Departing back to Oz was delayed 5 days while we waited for a deep low to dissipate. We left Opua on 16 March, and on the passage up the coast caught 2 small tuna. A complex trough over the Tasman produced numerous rain squalls for us but seas remained below 3 metres, and we had a relatively easy and comfortable return in 7 days 15 hrs with the breeze on the starboard quarter for most of the trip.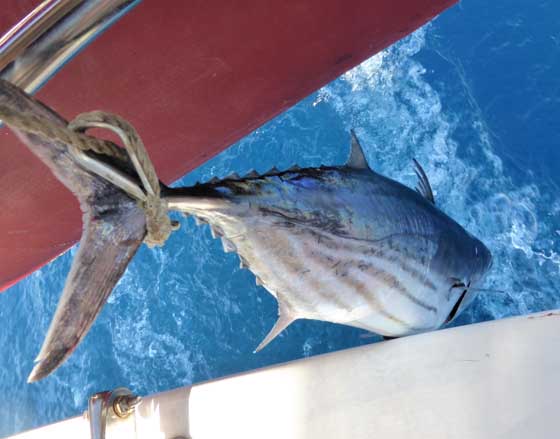 Taking sextant sights on the beach at Mooloolaba was a lot easier then taking them on a bouncing vessel when you had to wrap arms and legs around rigging to prevent going overboard. It was frustrating when clouds obscured a heavenly body just when a sight was to be taken. It was fun and very satisfying when calculations based on sights gave a position within a couple of miles of actual. When the calculated position was a long way off due to poor sextant sights or poor arithmetic it certainly kept one humble. The achievements of past navigators can only be admired.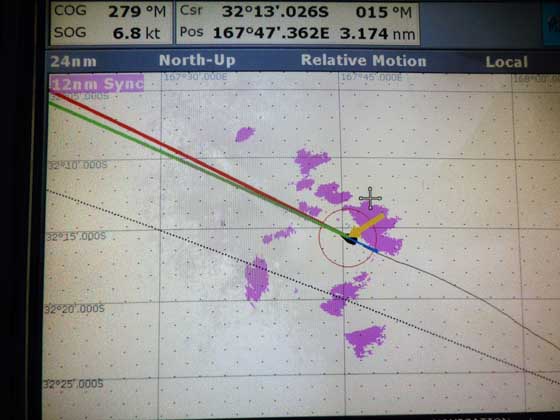 Peter & Virginia Lewis
Sanctuary Cove Boatshow 2016
We are exhibiting our latest build, the Bluewater 420 Raised Saloon "China Girl" at the Sanctuary Cove Boatshow from Thursday, 19 May to Sunday, 22 May 2016. Come down and see us at E Marina. The Bluewater yachts are one of the last Australian boat builders building genuine, ocean going, cruising yachts in Australia. We have recently secured a new order for another 420 Raised Saloon with mouldings completed, and the commencement of the structural stage for new owners based in Sydney. Bluewater Cruising Yachts - GUARANTEED CRUISING CONFIDENCE.