"Charlie's Dream" successfully finishes the Sydney to Hobart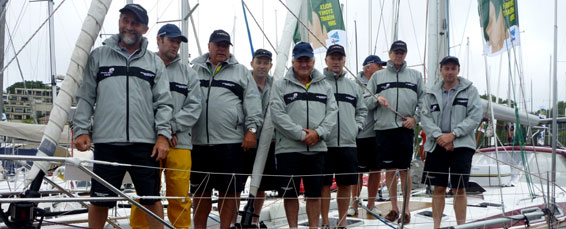 "Charlie's Dream" successfully completed the Rolex Sydney to Hobart Yacht Race 2009 in 4 days 21 hours 50 minutes and 48 seconds, and was placed 8 / 11 in the PHS Division 2. It was a most enjoyable race with varied conditions ranging from the first 2 days beating into the wind, almost a day of doldrums followed by fast running and reaching conditions. "Charlie's Dream" achieved a top speed of 17 knots surfing downwind under spinnaker in 30+ knots of wind.
"Charlie's Dream" once again had prime position at Constitution Dock and attracted a lot of admirers. Peter and Virginia spent the next 2 weeks cruising Tasmania's East Coast before heading north.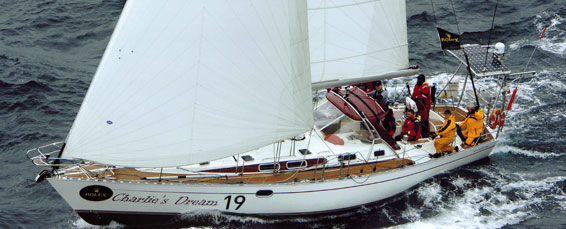 The best part of the 2009 Rolex Sydney to Hobart Yacht Race 2009 from the crew's perspective was the down hill run off Tasmania's East Coast during a 6 hour gale in which our top speed hit 17.3 knots.
Following the race Peter and Virginia were joined by their son's family for a cruising holiday. Bruny Island (yummy cheese), Recherche Bay (long walk to Southern Coast), Port Arthur (penitentiary), Tasman Island (lots of seals) and Fortescue Bay (see photo of anchorage with wreck in the foreground) were among the places visited. Many flathead were caught but 95% thrown back as too small to keep.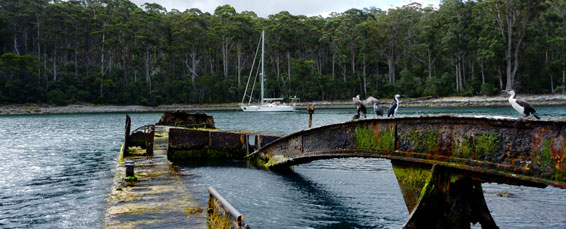 The return trip to Newcastle saw us anchored at Fortescue Bay and Wineglass Bay before sailing the two days to Eden. A southerly front hit us off St Helens with a top wind gust of 61 knots before settling in to another gale of 40 to 50 knots for the next few hours. With shortened main and staysail it was very pleasant, although not what the girls would have said! From Eden we had good south to south east winds that kept us moving along at 8 knots most of the time. The following seas made helming exciting (see photo).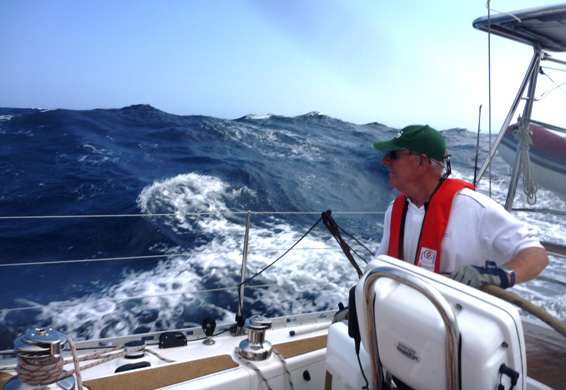 It was nice to get back home but within a day the rest of this year's adventures on "Charlie's Dream" was being discussed.