"Charlie's Dream" - Sets Off Around Australia Cruise
It has been Peter & Virginia's dream to sail around Australia before building their dream boat which is now a reality. After completing 3 Sydney to Hobart Yacht Races, 2 Gosford to Lord Howe Island Races, and 2 Brisbane to Gladstone Yacht Races they have now embarked on an adventure of a lifetime.
"An easy crossing of the Wide Bay Bar with overnight anchoring at Elbow Point and then uneventful (ha, ha) trip up the Sandy Strait. We kissed Kauri Creek inlet and kissed Garry's Anchorage! We are now at Kingfisher Bay Resort anchorage. Difficult decision to be made tonight is whether to have the Lark rum, the Lark single cask whisky or the Lark brandy! We should be in Bundaberg tomorrow. Regards, Pete and the gang. 24.6.11"
We at Bluewater congratulate Peter & Virginia's accomplishments so far, and wish them all the best for their next challenge. Well done!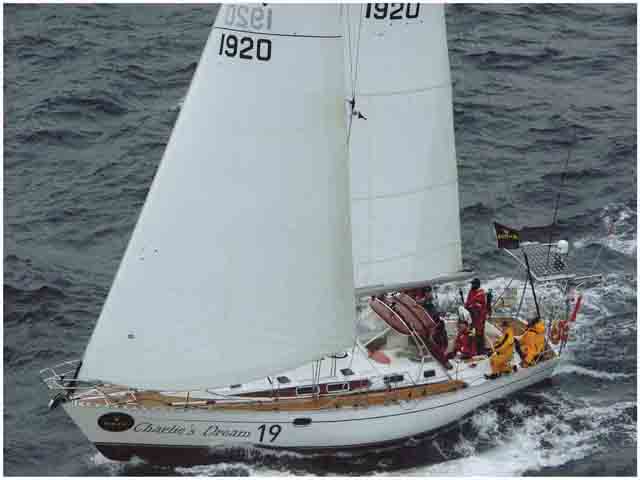 James Christie – Apprentice Of The Year
Bluewater is proud to announce James Christie has been awarded the Apprentice Of The Year – Trade: Shipwright - Marine Craft Construction Certificate III, and Bluewater Cruising Yachts Trainer Of The Year. James is in his 4th year of his Apprenticeship and has done exceptionally well. We are now waiting to hear if he advances to the State Awards in September 2011 in Darling Harbour, Sydney. Good Luck James!
"James has a maturity beyond his years with his employer citing his commitment, problem-solving skills and dedication as his best attributes. James applies himself to learning outside of his employment and undertakes projects in his own time to ensure he becomes a better tradesperson. He displays excellent leadership qualities and is a terrific example to the junior apprentices at Bluewater Cruising Yachts."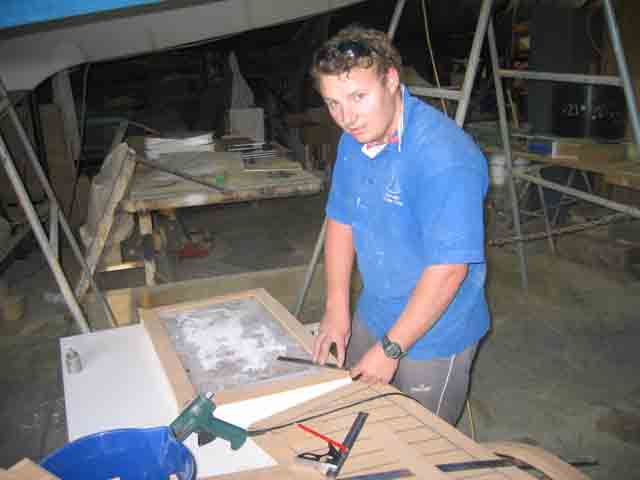 "KRACKT" – Across The Gap
Karen & Robert Black have successfully completed their cruise to Tasmania, and are now in Vanuatu on their 9th cruise to this magical destination.
"Hi all. We made it into New Caledonia, providing the motor doesn't conk heading into the marina to clear in tomorrow. A windless trip this time = smooth seas after day 2. Already having to put back in the moisture nature is removing. It's warm here. Oh it's bloody lovely. Regards, Karen & Robert Black. 11.6.11."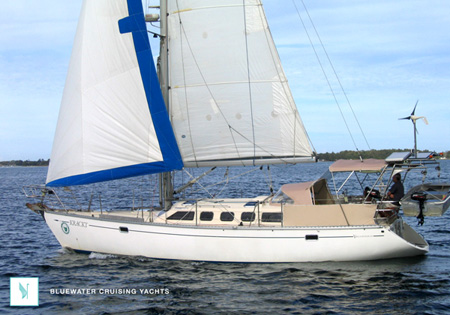 "ARTEMIS" – A Trip To Lord Howe Island
Matthew Percival has recently completed his first offshore cruise to Lord Howe Island since purchasing "Artemis" late 2010.
"Having taken delivery of "Artemis" in January I was keen to take her on an ocean voyage. Together with my son Tim and friend Rod Waterhouse we decided on a trip from Pittwater to Lord Howe Island. A May departure suited us all best and we were lucky to be in a position where we could be flexible about our departure times.
The weather was unsettled in May with gale warnings and moderately heavy seas. After a week of daily conferences we were delighted to see a weather window in the form of a high pressure system advancing acrossing the Bight. We sailed at dawn in a 15-20 knot S-SW wind with a 2-3m swell. We were blessed that the wind direction remained constant and the seas abated over the next four days. With Balls pyramid progressively looming over the horizon arriving at Lord Howe at dawn was truly spectacular. We hove to until 9.00am until the harbourmaster/local police officer could talk us through the narrow channel to the designated moorings.
After a restful night at Pine Trees Lodge the wind fortuitously changed as the high arrived to a north easterly allowing us the ideal return passage to Pittwater. The yacht sailed like a dream, comfortable and faultless. Regards, Matthew Percival, 29.6.11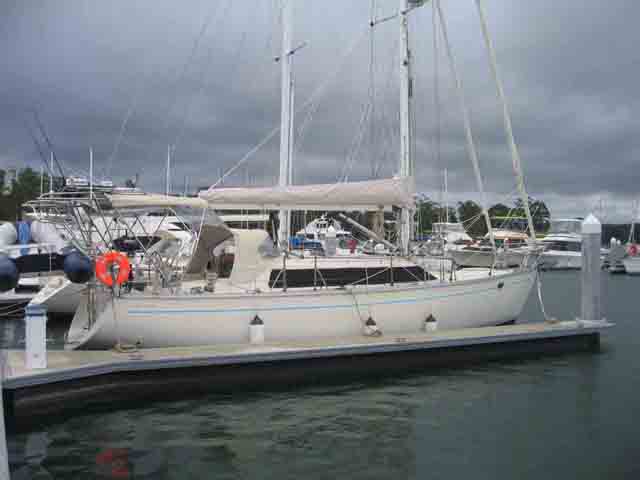 Launch of "Southern Belle"
Bluewater is excited to announce the impending launch of "Southern Belle" built for Sydney based couple, Gail & George Grant. Their Bluewater 420 Raised Saloon will be exhibited at this year's Sydney Boatshow from Thursday, 28 July to Monday, 1 August 2011.
Their yacht has a list of new features not seen on a Bluewater before such as mini bowsprit, self tacking staysail, forward utility cabin (which includes a 3kg front loading washing machine, toilet / shower, tool storage, and work bench), folding dinnette table, galley benchtop servery, 75hp Yanmar turbo diesel engine with twin alternators. Another feature not seen before is the 390w solar panel arch which is 3 ½ times more capacity than what we fitted on our original Bluewater's.
So why did Gail & George purchase their Bluewater when they could have chosen a much cheaper option? In their words,
"Why Build a Bluewater?
It has taken some considerable time and research to finally come to the decision to build a Bluewater 420. Our decision was based on the criteria we felt was important…

The best size two people could comfortably handle… we decided 40-45 ft was the optimum;
A manageable sail plan;
Large tankage and lots of storage;
A powerful engine with solid construction (no cored hull for us) and a skeg hung rudder;
A comfortable motion at sea was important as well as all-weather protection from a hard dodger.
The build quality had to be second to none. There is nothing like knowing who will be building your vessel….after all your life could be at stake in a lesser yacht. We have all heard and read about the horror stories of keels falling off while at sea on other yachts.
With all of this in mind – and after years of looking – we decided on a Bluewater 420. Bluewater have a commitment to quality that is rare in today's world. Their attention to detail and the way they partner with an owner throughout the entire building process is exceptional.
Our experience at every stage in the building of our Bluewater 420 by David and his team has been unbelievably positive. Their professionalism, pride and workmanship are consistently at a high standard. But it's their enthusiasm for innovation and inclusion has been the most welcome and will result in a beautiful and reliable Bluewater cruising classic yacht for years to come."