Sydney International Boatshow
Doesn't time just fly when you are busy and the Sydney International Boatshow is nearly upon us again. It seems like only yesterday that we launched Gail and George's "Southern Belle" just in time to be on display at last years show. And here we are 12 months later, putting the finishing touches on our latest build getting it ready for launch and display at this years show. This time it is a Bluewater 420 Centre Cockpit model which has been built for a local Newcastle couple who plan to live aboard and cruise the world.
This has been an interesting and long term project. The owners knew they wanted to build a custom designed yacht fit for their future ambitions but didn't have the full finances ready at the time. They had a deposit and a good business, a flexible time frame of two to three years and wanted to schedule the building of the yacht depending on the cashflow from their business.
As the owner Greg has said "This has worked well from both sides whereby the contract was to a structural stage then depending on funds could stop or proceed to the next stage without the usual pressure. When we made the decision to proceed, all I could scrape together was the $11,550 deposit. I would have needed far more than that as deposit on a production boat. Being able to "pay as we go" has helped me get into a far better boat than I could have through conventional means."
Other features of this new build is a hard dodger cockpit enclosure, white oak interior, extra galley benchtop, new window arrangement (10 opening ports) and forward facing saloon windows, watertight main bulkhead, raised nav station, a 75hp Yanmar engine, mini bowsprit and self tacking staysail.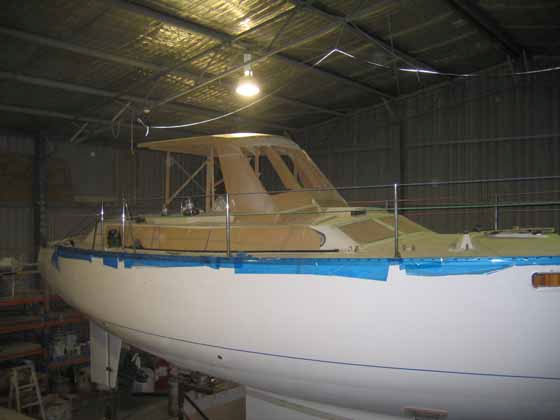 Bluewater yachts are truly custom built to suit the owners, not only in the specifications but also in the financial arrangements whether that be budget or timing. For discerning yachties, those who want a yacht that above all else ensures the safety and comfort of all those who sail aboard for longer voyages, a Bluewater should always be top of their list. We will do whatever it takes to deliver what you want when you want it.
If this build arrangement could be of interest to you please call David for more information on 02 4956 8522 or 0412 656 271 or www.bluewatercruisingyachts.com.
"Charlie's Dream" Circumnavigation of Australia
Peter & Virginia Lewis are keen cruisers who have a number of clear goals for their yachting futures. Having completed a number of races including:
3 Sydney to Hobart Yacht Races
2 Brisbane to Gladstone Yacht Races
2 Pittwater to Lord Howe Island Yacht Races
1 Hamilton Island Race Week
they have now added a complete circumnavigation of Australia.
Congratulations Peter & Virginia, you are truly living Charlie's dream, well done.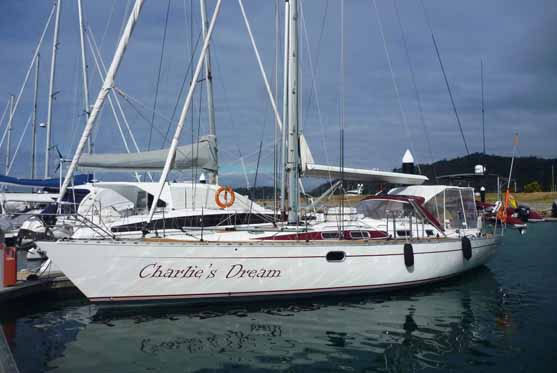 A few facts about our sail around Australia
Total distance as per the log - 8044nm
Number of overnight sails - 24
Distances sailed during overnighters - 4131nm
Best 24 hour run - 177nm
Days start to finish - 264
Days start to finish excluding time home - 206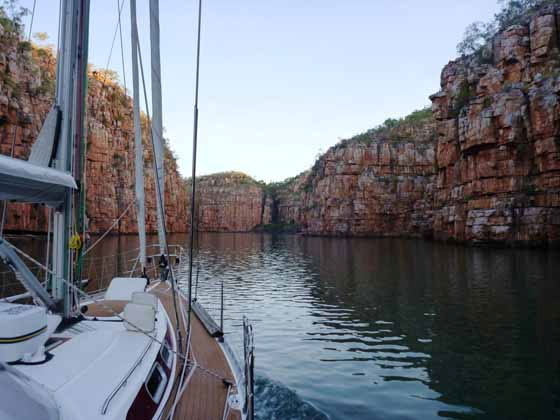 They describe some of the highlights of this voyage as:
being together (ah, that's so nice and just what we all want isn't it)
meeting other sailors
exploring the 'unknown'
crossing the Bight
seeing whale calves trying to wave their tails
seeing manta rays feeding, dugongs feeding, and seeing crocodiles up close
the beauty of the Kimberly coast and rivers and the Montebello Islands
catching tuna and mackeral and King George whiting
and then getting home!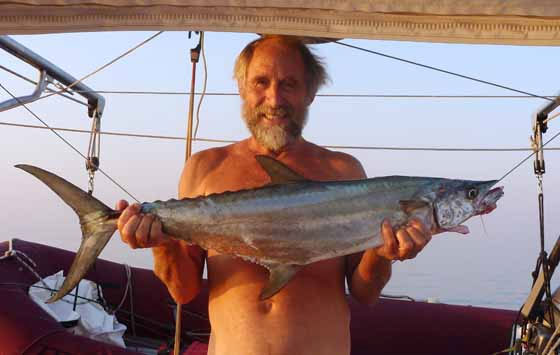 According to them, the biggest danger they faced was dodging whales who just wanted to get close and see who we were.
As to problems, well "Charlie's Dream" sailed and handled beautifully and the trip was as comfortable as could be hoped for. We always felt safe and secure and had confidence in the structure of the yacht. We did have some electronic problems with the autopilot failing, and one of the solar panels, but this did not take away from the delight we had in completing the voyage.
"Charlie's Dream", in 3 1/2 years, over 25,000 sea miles and their next adventure just 3 months after returning from their 9 month cruise around Australia, will be from their home in Brisbane to Noumea, New Caledonia Yacht Race which commenced on Sunday, 3 June 2012.
Congratulations again to Peter & Virginia on your enthusiasm and accomplishments. We wish you Bon Voyage and safe cruising - Please keep in touch so we can all follow your exploits.