There Has Never Been A Better Time To Invest In The Boat Of Your Dreams!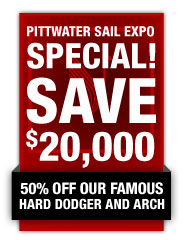 Bluewater Cruising Yachts are excited to be exhibting at the CLUB MARINE PITTWATER SAIL EXPO again this year.
We invite you to visit us on the water this Saturday, 16 and Sunday 17 March 2013 at the Royal Prince Alfred Yacht Club, Newport. Admission is free and, just like the show last year it'll be a fun day for the whole family.
Come down and see our Bluewater 420 Raised Saloon "Southern Belle", meet her proud owners, Gail & George Grant, and hear about their adventures so far.
Click here to view the latest video of "Southern Belle" and "Sabbatical II".
Right now is the perfect time to invest in your dream boat...
Interest rates are at their lowest since April 2009. This means financing and mortgage rates are highly affordable... more so than in the past 4 years!
In recent research more than half (55%) of Australian consumers believe the next 12 months will be a good time to buy the things they want and need.
Consumer confidence measures have increased steadily reaching a 3 year high in January of this year. Why is this important? If confidence is higher, consumers tend to purchase more, boosting economic expansion and driving business success and job growth.
What does this mean for you?
It means there is no time like the present to talk to us about building a custom made yacht for you. Come down and see us at the Sail Exo, have a look at "Southern Belle", talk to the owners, and picture yourself aboard your own guaranteed cruising yacht... finally.
So if you've been thinking...
"I can't find a yacht that feels safe enough to trust with my family's life."
"All yachts are expensive ... I want to make sure I am making a sensible investment."
"I need to negotiate a building time frame that will suit me and my financial situation."
"I need to rely on after sales service for the life of my investment."
Then just talk to a Bluewater owner and listen to what they have to say. We can introduce you to almost everyone who has owned a Bluewater.
Talk to us at the Sail Expo. We will answer all your questions - openly and honestly.
GUARANTEED CRUISING CONFIDENCE
SAFETY - PERFORMANCE - VALUE
WORLDS BEST DESIGNS - AUSTRALIAN MADE - AUSTRALIAN GUARANTEED