Expressions of Interest - FOR SALE
We are seeking Expressions of Interest from those who would like to purchase a beautiful and fastidiously maintained, second hand Bluewater 400 Raised Saloon version before it hits the general market in the next couple of weeks. So if you would like to receive more information please email David at david@bluewatercruisingyachts.com
How to Turn Your 40-foot Bluewater Yacht into 50 Feet of Offshore Cruising Comfort and Luxury
Bluewater's Newest Innovation Announced
Bluewater Cruising Yachts' 420 series delivers ocean-crossing performance, spaciousness of accommodation, and elegantly efficient lines and features inside and out. These 40+ footers accommodate a family or group of friends as effortlessly for a pleasant day sail as they do for a circumnavigation. It can be argued they are especially well suited to ocean voyages because they are designed to be sailed shorthanded with all controls and lines meticulously placed in the generous cockpit.
Ah, that cockpit! Already engineered for safe and comfortable performance distance sailing for couples or individuals, 420 cockpits also feature creature comforts like seats long enough to lie on, ample room for on-deck dining and entertaining, and a stylish transom platform with swim ladder. What else could you need?
Announcing the hard dodger débuted at the 2010 Sydney Boat Show in July. This sleek and functional cockpit enclosure adds copious living space to any 420. Furthermore, although Bluewater yachts have generous freeboard that helps keep seawater out of the cockpit, inclement weather could still make for wet and chilly sailing. Until now!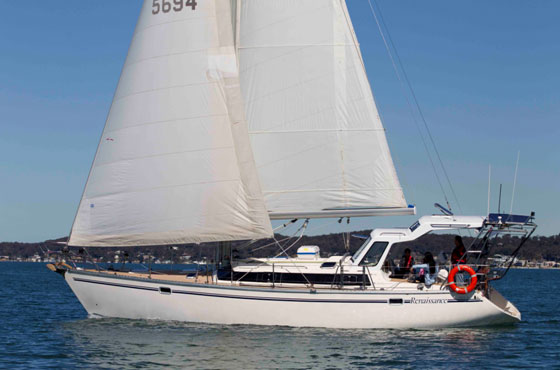 The Artful Dodger Débuted
It's no wonder this new hard dodger was well received in Sydney. It adds about 10m2 of enclosed sailing and living space with 6'1" standing headroom.
Whether you sail shorthanded or for extended periods with a number of crew on a helm rotation schedule, foul weather can greatly heighten the risk of fatigue and even exposure, two of cruising and competitive sailors' greatest enemies at sea. The Bluewater 420 series hard dodger virtually eliminates exhaustion, and hypothermia or heat stress problems by virtue of its multitude of well thought-out protection and functionality features. It means your Bluewater can now be sailed comfortably all year round even in cooler climates.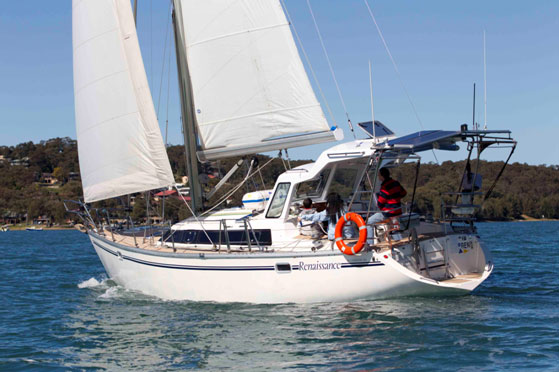 Dodger Performance Characteristics
Aerodynamic design gives the 420 hard dodger a high-performance profile, and the cockpit high-performance protection. Sturdy wraparound toughened glass windows are placed on both "levels" of the dodger for high visibility during standing and sit-down helming and line handling, and three airflow hatches ensure cool-pass-through ventilation on hot and muggy sailing days as well clear visibility forward even in a downpour. Clear plastic side and back panels can be utilised to fully enclose the cockpit or combinations in between while skipper and crew navigate through squalls and storms or chilly winter days. Safety at sea in rough conditions is maximised by careful and generous placement of grab rails and bars.
The leading bottom edge of the hard dodger has been carefully engineered for line passage as all control lines are led to the cockpit through double rubber boots. The angle and slopes of the dodger front section maximise unobstructed air flow, cutting down windage forward. The lines of the roof are refined for minimal windage as well.
In-cockpit electronic equipment is also likely to last longer and malfunction less because the dodger protects it from harsh sunlight, blowing salt spray, even icing over in the most extreme climates. Having a hard top means no more drips or leaks through sew lines or zips. In fact, the gelcoat finish is the same hardwearing surface as the hull and deck mouldings which means it won't deteriorate and is easy to keep clean.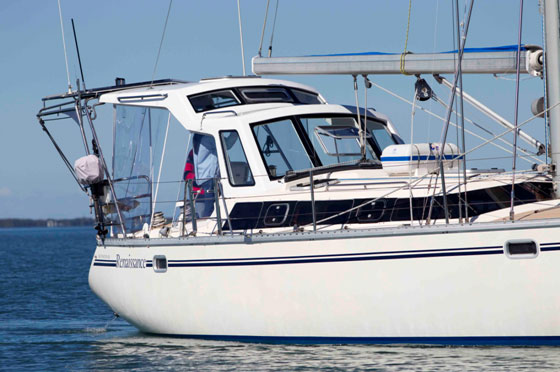 On-Deck Luxury In Any Weather
The cockpits on 420s are designed first for sailing performance, practicality and safety, but the offshoot of this design ethic is unadulterated comfort. The hard dodger increases onboard luxury exponentially.
For long-distance cruisers and rally racers, four-season comfort is a must. The cockpit cabin formed by the hard dodger can be heated with a diesel heater, even cooled with an air conditioner while in port. Tropic sailors know all to well the difference shade makes while underway and at anchor, and the importance of room for the crew to spread out, even sleep outside, on stifling nights. This dodger is all about air flow, protection from all the elements, and increasing living space for crew harmony.
Not only does the dodger add another large room to the floorplan of the yachts, but the roofdeck is built so well it can be walked on, sat on underway (be mindful of the boom though), and makes a great sunbathing platform. Now there is no need to strain your vision from the rigging or the bow while navigating reef—filled shallows. Simply step up to the roof-deck for a virtually unobstructed and comfortable 360-degree view.
You may be surprised at the variety of uses you'll find for the under-dodger cockpit. Hang towels and laundry out to dry, even on a rainy day. Enjoy a bit of company while you prepare meals in the galley while most of the crew and guests keep out from underfoot on-deck. Or cook outside and enjoy the views and fresh air while protected from the sun and rain. Maybe you need a study or office aboard? Or a TV room. This hard-dodger cockpit does that. Cruising will never be the same again.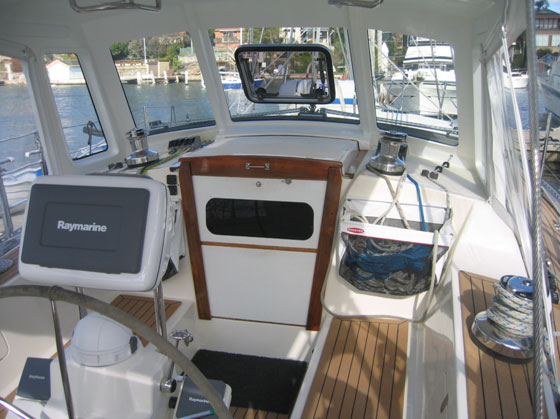 Are There Any Downsides to the Dodger?
Feedback at the Sydney Boatshow was almost entirely positive. A couple show-goers were concerned about added weight having a detrimental impact on performance, but at 150 kgs there really isn't much effect. Keep in mind that Bluewater cruising yachts are designed for long-term performance cruising despite the added weight of provisions, personal belongings, and safety equipment. A few attendees mentioned that the profile of the vessel seemed high and less sleek with the dodger. This is true. The hard dodger definitely gives the overall visual aesthetic of the 420s a more world-cruiser/liveaboard look. That's all right! That's what Bluewaters are designed for. Folks who see you sailing yours will know you are serious about your sailing, and know what you are doing.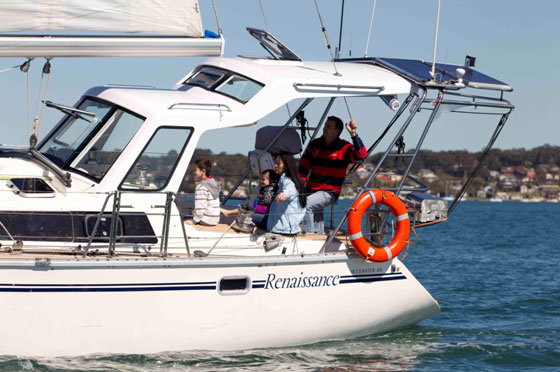 Final Thoughts…
Whatever your needs, why sail a 40-foot performance yacht that feels like a 40-footer, when you can sail a 40-footer that feels like 50? The Bluewater 420 hard dodgers are available as aftermarket retrofits for existing owners. They will henceforth be a standard option on all new Bluewater 420s. The team at Bluewater Cruising Yachts is betting most Bluewater 420 owners won't leave home without one.