Cygnet 20 Race Results

The Cygnet 20 has been racing in the following clubs with a handicap rating:
Newcastle Hunter Trailer Yacht Association (NHTYA) 0.65
Lake Macquarie Yacht Club (LMYC) 0.638
Woody Point Yacht Club
Gaffers Day 0.750
NHTYA
Scratch start is the best racing for the Cygnet 20 as we are competing with similar sized trailer sailer yachts. They are all mostly swing up keel yachts and a few with lift keels and bulbs.
In the NHTYA Autumn Race Series Cygnet 20 competed in Races 2, 4, 7 and 8 placing her in 3rd, 3rd, 8th and 1st places respectively. Races are organised about once a month on weekends at NHTYA, and are a lot of fun sailing on beautiful Lake Macquarie.
Click here for NHTYA Race Results.
LMYC
At LMYC we have been racing here intermittently, and against fixed keel, larger boats. The next smallest boat to Cygnet is a 25í, and the size goes upwards to 47í. These races are a handicap start.
In Race 6 on 16.5.18 Cygnet 20 had its best race yet, and was placed in 1st position line honours and 1st on handicap. She had a less than ideal start which saw her crossing the start line a few seconds early, and required a penalty turn but she still managed to lead all the way, and cross the finish line first claiming victory which was a satisfying win for the crew.
Conditions were an easing 12-15 knot SW breeze.
Click here for LMYC Race Results.
Woody Point
Woody Point is a mixed fleet which consists of a wide variety of boats from beautiful wooden cruising boats, through Jubilees, Etchells, Diamonds, to more modern cruising and racing boats.
The race has an upwards of 50 boats racing every week, and the Cygnet 20 performed very well to be in the top 20 in four out of the six races she raced in. This is a very pleasing result proving the Cygnet 20 does indeed sail very well.
Click here for Woody Point Race Results.
Gaffers Day 2017
Gaffers Day 2017 is a Race day organised by Sydney Amateur Sailing Club and held every second year on Sydney Harbour. The Cygnet 20 was in the Gaff Div 2 PurHC. With 11 boats in this Division Cygnet 20 was the second last to start the race leaving some 11 minutes after the first boat on handicap but still managed to place 4th over the line overall.
Another strong performance by the Cygnet 20, and a great day sailing on beautiful Sydney Harbour.
Click here for Gaffers Day 2017 Race Results.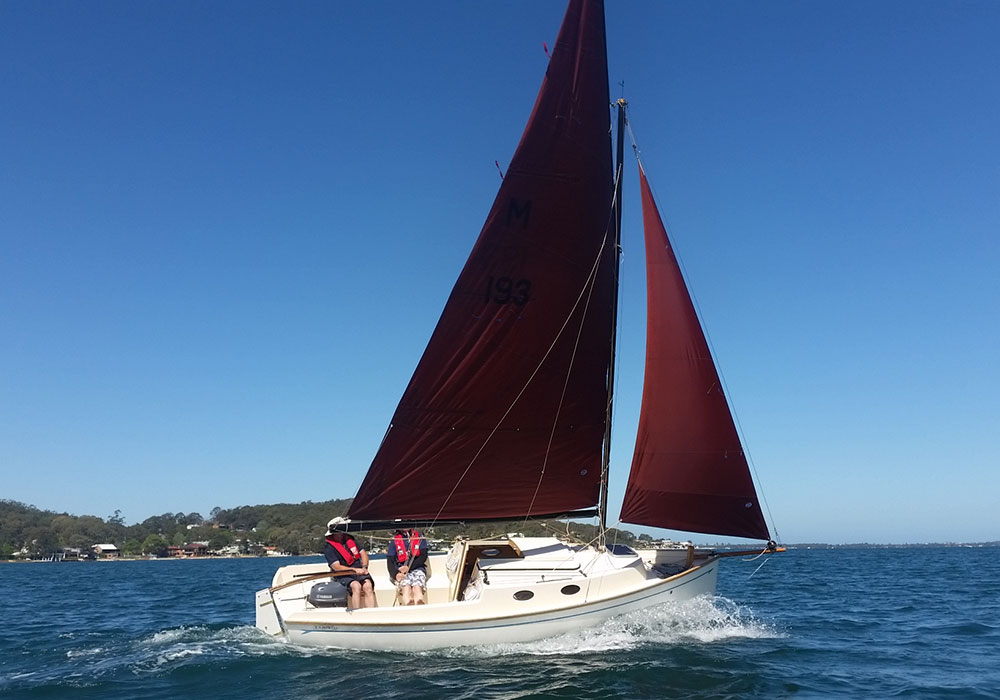 EXPLORE - ADVENTURE - RAID
Raid – A sail and oar adventure.
This is a leisure pursuit combining sailing and rowing. It involves a fleet of small boats capable of being rowed and sailed, exploring a coastline or inland waterway over several days, often with some competitive element. (Wikipedia Definition).
| | | | |
| --- | --- | --- | --- |
| | | | |
| The Bluewater Cygnet 20 | The Bluewater 420RS | The Bluewater 420CC | |